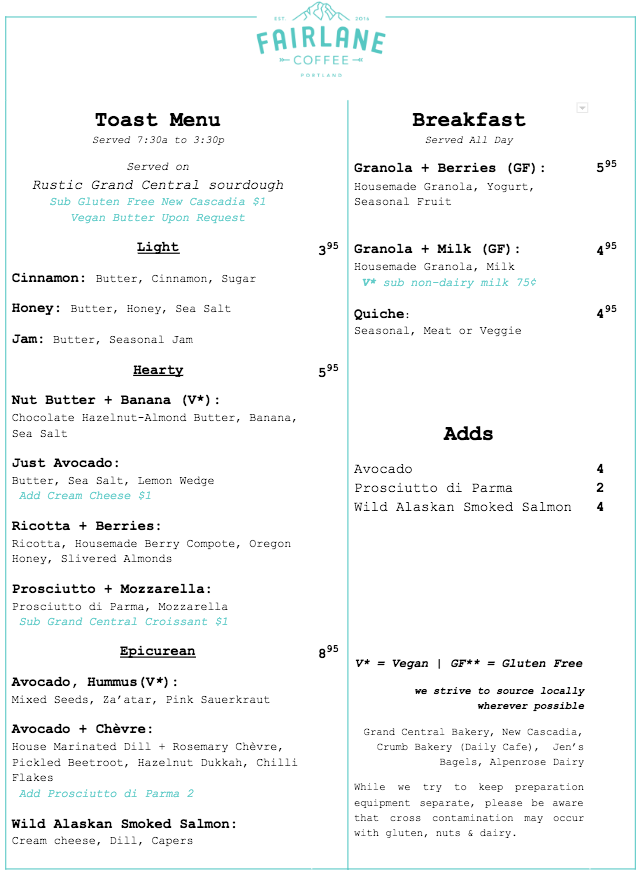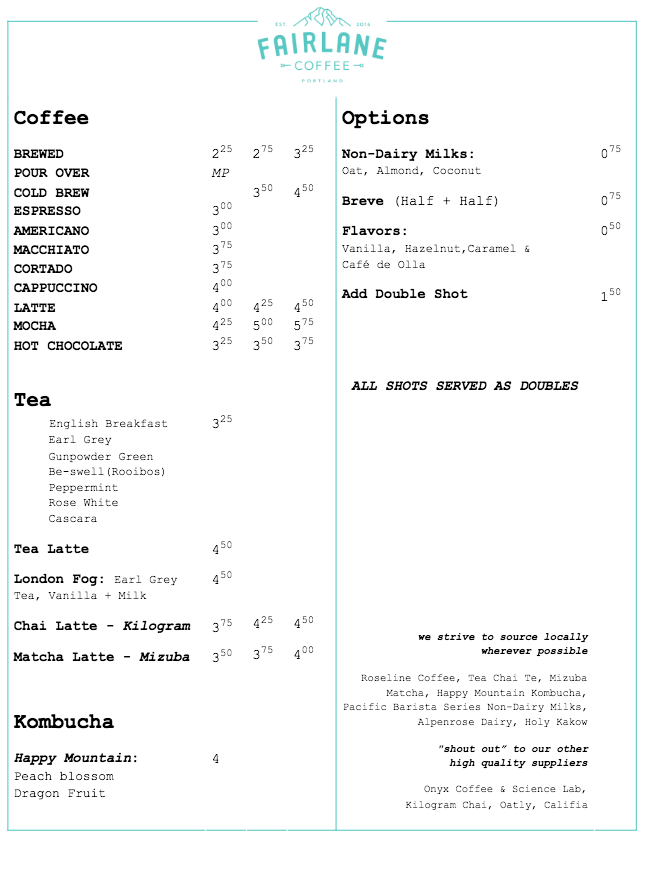 ---
Meet Alex!

Our resident queen of caffeine & the woman behind Fairlane! When she's not @Fairlane, she's hiking or studying Marine Biology.

Meet Eli!

Eli's quest has been to make the perfect coffee and master the technique.

Meet Michael!

Michael is from Texas where he worked for a number of cafes. Most recently Cultivar. He slings some fine shots!

Meet Madi!

Madi is a Portland native whose plant obsession led to a TON of plant knowledge! She's also smitten with her 2 "free range" birds.

Meet Alexander!

Alexander is the other "Alex." He is married to Alex and he does what she tells him to do 🙂

Meet Aleda!

Aleda adds a lovely creative side to Fairlane. Noticed the really nice handwriting and pictures...it's all her!

Meet Alejandro!

Alejandro is our resident Manager & Oregon native. He ensures you are happy & caffeinated.

Meet Sierra!

Sierra is the glue that keeps this world together. She is currently pursuing her dream to be a Film Director!
As Featured in
THE NEW YORK TIMES
"AT THIS AIRY CAFE ADORNED WITH HANGING PLANTS, BARISTAS PREPARE DRINKS WITH PRECISION, USING TIMERS AND SCALES AND OTHER SIGNATURE DETAILS CHARACTERISTIC OF COFFEE SHOPS SPECIALIZING IN ARTISINAL ROASTS. THAT KIND OF ATTENTION TO DETAIL IS THE STOCK IN TRADE OF THIS THREE-YEAR-OLD HANGOUT. IT CAME UNDER NEW OWNERSHIP IN SEPTEMBER. A TOAST MENU AS WELL AS QUICHE AND SWEET FROM LOCAL BAKERIES ROUND OUT THE OFFERINGS."
-LIZA WEISSTUCH, New York Times
SUNDAY, MAY 26, 2019
FAIRLANE IS A TRIBUTE TO FAIR LANE, THE ESTATE

WHERE HENRY & CLARA FORD BROUGHT TO LIFE THE

IDEA THAT ALL OF HUMANKIND COULD ROAM THE

OPEN ROADS AND #ADVENTUREON.
---
---
Account with this username does not exist
---