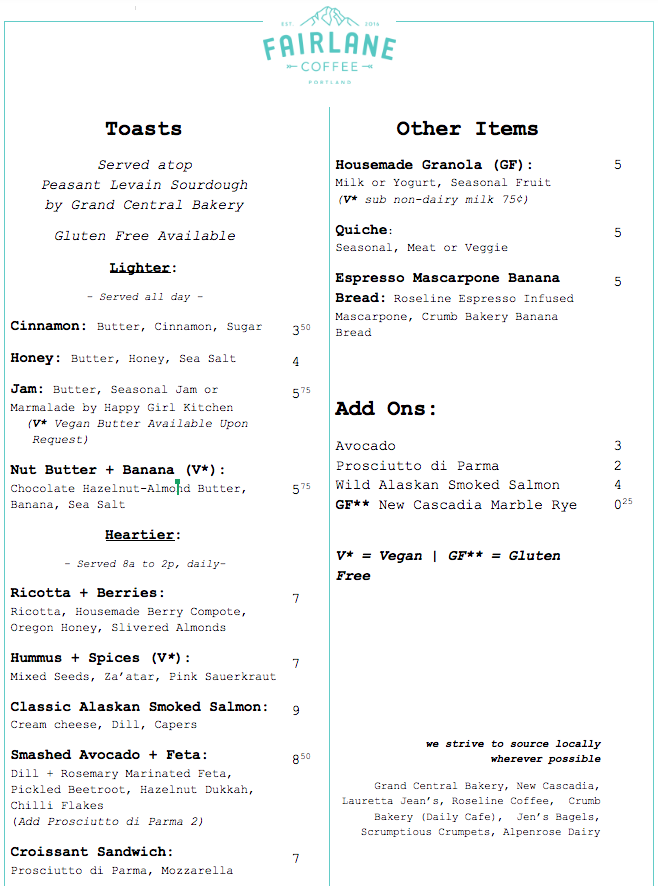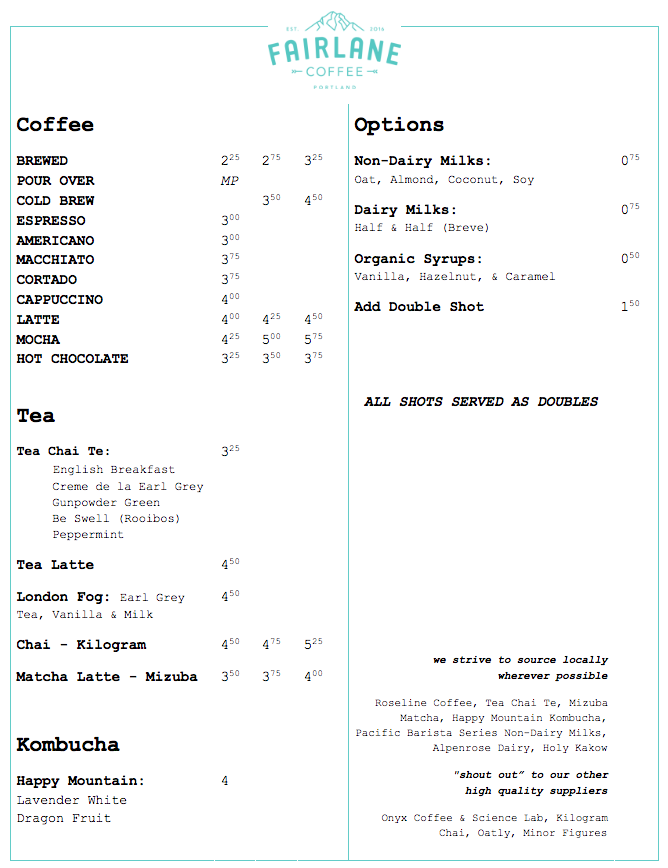 ---
Meet Alex!

Our resident queen of caffeine & the woman behind Fairlane! When she's not @Fairlane, she's hiking or studying Marine Biology.

Meet Eli!

Eli's quest has been to make the perfect coffee and master the technique.

Meet Lexe!

Lexe is from San Diego and she brings the sunshine from SoCal to PDX. We are forever in her debt!

Meet Madi!

Madi is a Portland native whose plant obsession led to a TON of plant knowledge! She's also smitten with her 2 "free range" birds.

Meet Noelle!

Noelle attends Reed College. She also draws magical unicorns proving herself to be our resident artist.

Meet Quinn!

Quinn loves coffee. He works mostly at Stumptown at the Ace Hotel. He's a latte art champ!

Meet Sam!

Sam is our resident Assistant Manager. He ensures you are happy & caffeinated.

Meet Sierra!

Sierra is the glue that keeps this world together. She is currently pursuing her dream to be a Film Director!
As Featured in
THE NEW YORK TIMES
"AT THIS AIRY CAFE ADORNED WITH HANGING PLANTS, BARISTAS PREPARE DRINKS WITH PRECISION, USING TIMERS AND SCALES AND OTHER SIGNATURE DETAILS CHARACTERISTIC OF COFFEE SHOPS SPECIALIZING IN ARTISINAL ROASTS. THAT KIND OF ATTENTION TO DETAIL IS THE STOCK IN TRADE OF THIS THREE-YEAR-OLD HANGOUT. IT CAME UNDER NEW OWNERSHIP IN SEPTEMBER. A TOAST MENU AS WELL AS QUICHE AND SWEET FROM LOCAL BAKERIES ROUND OUT THE OFFERINGS."
-LIZA WEISSTUCH, New York Times
SUNDAY, MAY 26, 2019
FAIRLANE IS A TRIBUTE TO FAIR LANE, THE ESTATE

WHERE HENRY & CLARA FORD BROUGHT TO LIFE THE

IDEA THAT ALL OF HUMANKIND COULD ROAM THE

OPEN ROADS AND #ADVENTUREON.
---
---
A gloomy Saturday made a little less gloomy with our delicious Avocado Toast. @grandcentralbakery 's Peasant Levain toast is generously topped with smashed avocado with hazelnut dukkah, house marinated feta and pickled beets. #adventureon #afairlaneadventure #rainymornings #pdxsummer #travelportland #traveloregon #portlandcoffee #coffeepdx

We're so happy to read that Fairlane Coffee is featured as one of Portland's top five places to visit in a recent article published in the @nytimes. We are so thankful to work with such a wonderful team of people who have all helped make Fairlane the coffee shop we have always dreamed of. Many thanks to @livingtheproof for writing this great article on our hood! #adventureon #afairlaneadventure #newyorktimes #nytimes #thingstodoinportland #portlandcoffee #travelportland

We have a new exhibit up at Fairlane! Landscape photographer @sam_peters_nz is showing his work at the cafe all month long. Sam has spent years photographing landscapes across New Zealand, Australia and most recently the US. Oh, and he's also the guy who makes your coffee in the morning which makes him extra special to us ♥️

The team at @onyxcoffeelab create their signature Monarch blend with a combination of seasonal East African and Guatemalan coffee. You'll taste bittersweet dark chocolate, a mulled wine acidic sweetness, molasses, and a hint of dried berries on the finish. We use Monarch for all of our espresso coffees so come in and try this delicious blend.
---