INTEGRITY
As a business we will always seek to make decisions that are honest, just, and uplifting
QUALITY
Not only will we work to source the finest coffee for the purest consumer experience, we also seek to support quality of life via livable wages in our community and
provide only free-trade coffee that do the same.
WELCOMING OF ALL We welcome all people and invite customers of all walks of life into a comfortable, inviting space where each person may come to feel connected to their local and global community.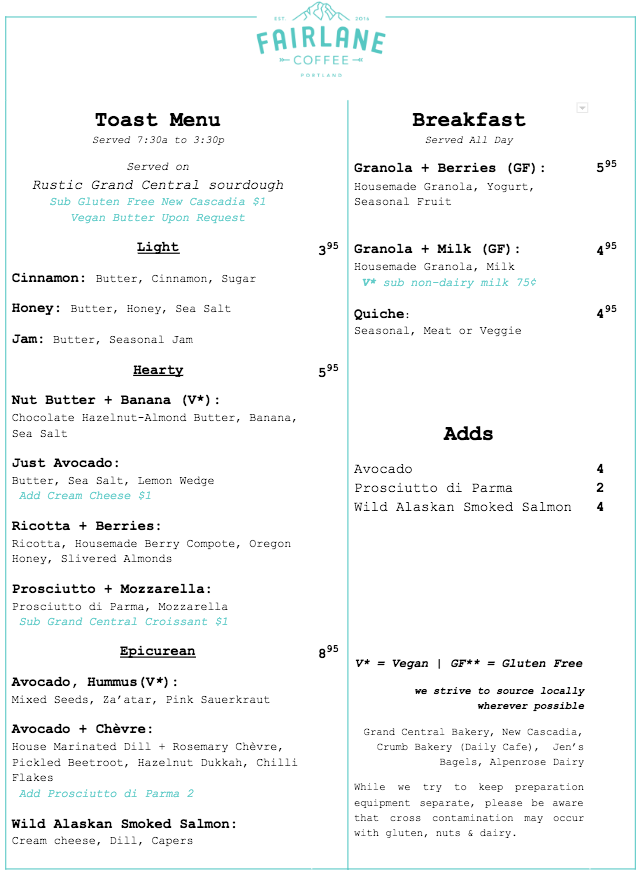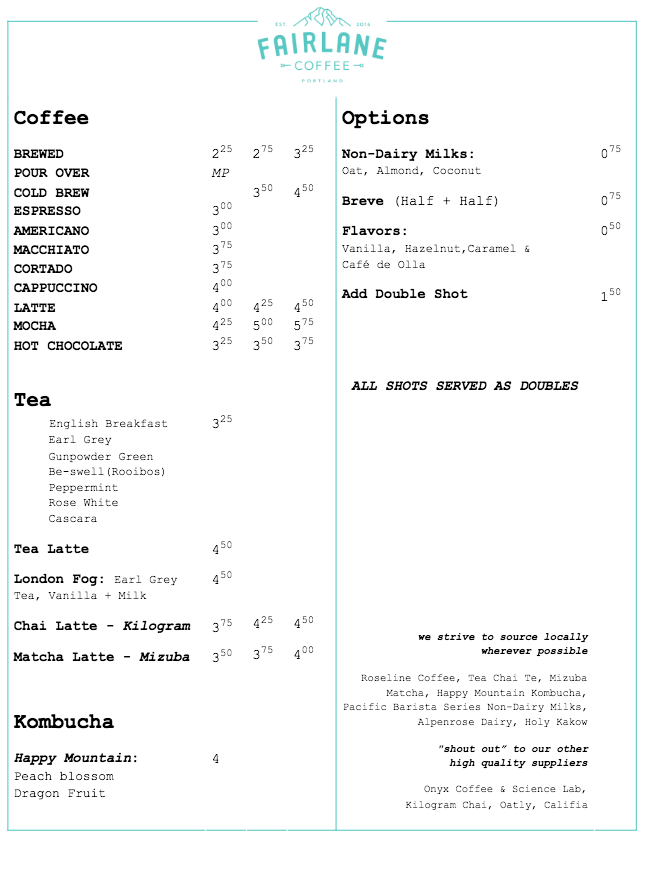 ---
Meet Alex!

Our resident queen of caffeine & the woman behind Fairlane! When she's not @Fairlane, she's hiking or studying Marine Biology.

Meet Eli!

Eli's quest has been to make the perfect coffee and master the technique.

Meet Michael!

Michael is from Texas where he worked for a number of cafes. Most recently Cultivar. He slings some fine shots!

Meet Madi!

Madi is a Portland native whose plant obsession led to a TON of plant knowledge! She's also smitten with her 2 "free range" birds.

Meet Alexander!

Alexander is the other "Alex." He is married to Alex and he does what she tells him to do 🙂

Meet Aleda!

Aleda adds a lovely creative side to Fairlane. Noticed the really nice handwriting and pictures...it's all her!

Meet Alejandro!

Alejandro is our resident Manager & Oregon native. He ensures you are happy & caffeinated.

Meet Sierra!

Sierra is the glue that keeps this world together. She is currently pursuing her dream to be a Film Director!
As Featured in
THE NEW YORK TIMES
"AT THIS AIRY CAFE ADORNED WITH HANGING PLANTS, BARISTAS PREPARE DRINKS WITH PRECISION, USING TIMERS AND SCALES AND OTHER SIGNATURE DETAILS CHARACTERISTIC OF COFFEE SHOPS SPECIALIZING IN ARTISINAL ROASTS. THAT KIND OF ATTENTION TO DETAIL IS THE STOCK IN TRADE OF THIS THREE-YEAR-OLD HANGOUT. IT CAME UNDER NEW OWNERSHIP IN SEPTEMBER. A TOAST MENU AS WELL AS QUICHE AND SWEET FROM LOCAL BAKERIES ROUND OUT THE OFFERINGS."
-LIZA WEISSTUCH, New York Times
SUNDAY, MAY 26, 2019
#ADVENTUREON.
---
---
The Thanksgiving Dinner Sandwich! 🦃⁠⠀ For a limited time only! ⁠⠀ ⁠⠀ We start with two pieces of @grandcentralbakery Peasant Levain bread, brushed with our house-made, thyme and sage, compound butter! 🤤⁠⠀ ⁠⠀ Next, we pile slices of smoked turkey breast and smooth, creamy, mellow gouda, place it in the oven, and wait till the cheese has melted to the perfect #gooeyness ⁠⠀ ⁠⠀ We then spread a layer of homemade, sweet and slightly tart, cranberry compote. Our cranberry compote is made with Cape Blanco cranberries, from the southern coast of Oregon, bayleaf and sugar. ⁠⠀ ⁠⠀ The sandwich is then topped off with a handful of arugula, to add that crisp, peppery taste, to cut through all that decadent goodness. ⁠⠀ ⁠⠀ Each bite is a perfect balance of sweet, savory and earthy flavors. The first bite will make you feel like you're at the thanksgiving table surrounded by friends and family.⁠⠀ ⁠⠀ Get one today to share with a friend or just to #treatyoself BUT we will only be serving this sandwich while supplies last!⁠⠀ You better get here as soon as you can! Our hours and location are linked in the bio 👆⁠⠀ ⁠⠀ ⁠⠀ ⁠⠀ ⁠⠀ ⁠⠀ ⁠⠀ ⁠⠀ #adventureon #thanksgivingdinner #smokedturkey #smokedgouda #cranberrysauce #turkeysandwich #eatpdx #travelportland #portlandcoffee #coffeepdx #fairlanecoffee #limitedtimeonly #lunchtimesnack #manvsfood⁠ #eaterpdx

Happy Friday-eve! 😍⁠ ⁠ We hope you have a lovely weekend! Come join us to get some fuel for your adventures, catch up with a friend or do some work! We are open from 6am-430pm daily. ⁠ ⁠ Also tag us @fairlanecoffeepdx so we can see and share your beautiful photos! #adventureon⁠ ⁠ ⁠ ⁠ ⁠ #portlandcoffee #pnwcoffee #theweekendisnigh

The Monarch Espresso by @onyxcoffeelab 🙌⁠ ⁠ We love this espresso so much, that we serve it year round! ⁠ If you love chocolate and fruit, then this is the coffee for you, no matter how it is served! ⁠ ⁠ The espressos aroma has a deep molasses and chocolate note, with a more subtle berry scent. The flavor is where it's at, lovely sweet red wine flavors, chocolate and a subtle acidity. The espresso feels like melted chocolate in the mouth. ⁠ ⁠ This coffee is amazing by itself, with milk or as an americano. As well, you can get some for your home in either 12 oz or 5 lb bags! ⁠ ⁠ About the coffee: ⁠ Component 1: Ethopia Gotiti natural ⁠ Component 2: Colombia Buesaco⁠ Process: Washed⁠ ⁠ This is a true year round blend. Due to the seasonality of coffee, the flavor profile for this coffee is set first, and the coffees are chosen later. This allows for different coffees to be used in the blend throughout the year. The process that Onyx uses to choose the coffee is highlighted below. ⁠ ⁠ "For Monarch, we use a natural Ethiopia roasted longer than normal to take bright fruits to a wine-like sweetness. Then we use Guatemalan coffees to find extra chocolate and caramel notes and create a dense, heavy body. The purpose is that once a flavor profile is created, we update the coffees that make up Monarch every 3-4 months. This allows us to have a year-round blend and flavor profile of high quality while retaining our commitment to seasonal coffees. " ~ Onyx Coffee Lab⁠ ⁠ ⁠ ⁠ ⁠ ⁠ #onyxcoffeelab #yearround #portlandcoffee⁠

We love @jensbagelsandpastries raspberry jam puffs! These guys are like the greatest toaster strudel to exist, starting with a raspberry frosting that covers the flaky dough and finally, jammed packed (pun intended🤣) with raspberry jelly! ⁠ ⁠ Come in and grab one quickly! #getsome⁠ ⁠ ⁠ ⁠ #raspberrypuff #Jensbagelsandpastries #portlandcoffee

If you've been looking for a new delicious #fall favorite, get ready! Introducing our new Fall syrup: Cafe De Olla!⁠ ⁠ Our syrup is made from cinnamon, orange peels, cloves, piloncillo and a little vanilla, which gives any drink those cozy fall feelings. For those who love pumpkin spice or like to add a little vanilla to your coffee and lattes, you must give this a try! ⁠ About our syrup:⁠ Our Cafe De Olla syrup, made by our own Alejandro Perez, is based on the traditional Mexican drink of the same name. Traditional Cafe De Olla, or "coffee from the pot" is a coffee drink that is brewed with cinnamon, orange peel, cloves and piloncillo (raw sugar cane) in a clay pot. All together this drink is a warm, sweet, spiceful treat that can be found all over Mexico whenever friends or family are near.⁠ ⁠ ⁠ #cafedeolla #adventureon #falldrinks

We are serving @onyxcoffeelab Ethiopia Hambela Buku ⁠on pourover today! 😍⁠ If you want to take some home we have bags too! ⁠#adventureon ---------------------------⁠⠀ Tasting Notes: Peach, White Flowers, Lime, Black tea Origin: Ethiopia⁠⠀ Region: Guji⁠⠀ Farm: Hambela⁠⠀ ----------------------------⁠⠀ Gear: @kalitausa Wave Dripper

Look at the waves on this @jensbagelsandpastries cinnamon bun! 😍⁠ ⁠ This aint your mothers cinnamon roll, this bun is flaky, sweet and huge! If you get a chance you should grab one cause these guys sell fast! ⁠ -----------------------------------------------------⁠ If sweet isn't what you want, we have whole toast menu! Link in the bio 👆 #jensbagelsandpastries #cinnamonroll #portlandcoffee #bakedgoods

C-C-C-Coffee!!! 🙌⁠ ⁠ We got it, you need it, come grab it! We have bags for all the coffees we serve, so if you need a gift for a friend, need coffee for a trip, or need a football for a game of catch (just kidding don't actually do that ☺️) , get a bag of your favorite coffee today! #adventureon⁠ ⁠ #onyxcoffee #coffeefordays #wholebeans

Everyday is a good to have coffee, but sometimes you got to switch it up a bit! ⁠ ⁠ Come in and get a delicious @mizubateaco matcha latte! Whether you want that iced, hot, or even lukewarm; we can do it all 👍⁠ ⁠ We also have some more delicious non-coffee drinks as well. You can see our full menu; link in the bio 👆

UPDATE: WE ARE OPEN TILL 430pm TODAY! (10/9) Remodel has been postponed. Rise and Grind! Right now on pourover come try @onyxcoffeelab Ethiopia Hambela Buku! ⁠! ⁠ ---------------------------⁠ Tasting Notes: Peach, White Flowers, Lime, Black tea Origin: Ethiopia⁠ Region: Guji⁠ Farm: Hambela⁠ ----------------------------⁠ Gear: @kalitausa Wave Dripper and @acaiacoffee scale ⁠ ⁠ ⁠ #adventureon #eaterpdx #onyxcoffee

Exciting news! We are doing a slight remodel to the cafe tomorrow (10/9) so we will be closing at 2:30pm! Don't worry though we will be open Thursday (10/10) bright and early at 6am. Here is a clue about the remodel... it rhymes with new bar... ya we are finally expanding the bar! So get excited cause this is gonna open so many new opportunities for our food and drink menu! #adventureon #portlandcoffee #remodel #biggerbetterbest #coffeeshops

Behold our Wild Alaskan Smoked Salmon toast!⁠ ⁠ We load two slices of @grandcentralbakery rustic sourdough bread with smoked salmon, cream cheese, capers and a few sprigs of dill. You can get this toast, and many others, from 7:30am to 3:30pm daily. Come in and get yours today! 😁⁠ ----------------------⁠ Check out our full menu. Link in the bio 👆⁠ ⁠ ⁠ ⁠ #adventureon #smokedsalmon #grandcentralbakery #eaterpdx

Come in and get some spro! We are featuring @onyxcoffeelab single origin El Salvador Santa Rosa (Honey processed) with notes of bright Raspberry Tea, Dates, and Jam ⁠ ⁠ or @onyxcoffeelab Monarch (washed processed) with notes of dark chocolate, dried berries and red wine. ⁠ ⁠ Come try something new and tasty! ⁠ ⁠ #adventureon #itcamefromarkansa #onyxcoffee
---
At our shop?
Out on an adventure?
let us know!

Tag us @Fairlanecoffee
& use our #adventureon